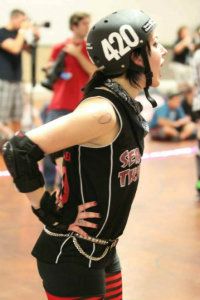 Garden State Rollergirl! Roller derby. Feminism. Don't be a stranger! Ask me anything!
Mommy blog
Horror blog
Baby daddy
Bestie
you can follow my Mama blog or my horror blog if you'd like to keep in touch
chainsawmama.tumblr.com
missscapegoat.tumblr.com
Biggest plot twist

*logs off*
Grandpa sticks up for his gay grandkid [via]


Literally amazing.
when you get pushed into jamming

Yep, get fit!
Before


When it actually went pretty well

was so proud of Minnesota today!
Pretty much yes